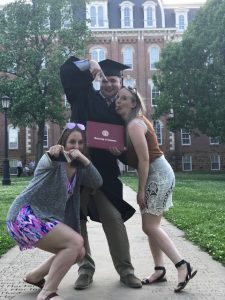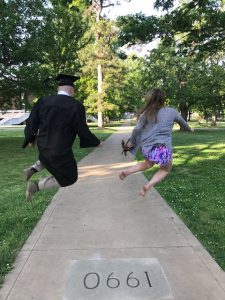 My next podcast will come out tomorrow.   I have not had enough energy to record in the last few weeks.
Life continues – and milestones are celebrated.  Owen graduated from University of Arkansas on  May 11.  We were together as a family – and with our extended Arkansas family that took such great care of Owen during his time in Fayetteville.  It is hard to believe how quickly the time passes.  Maeve finished her first year at University of Vermont.  Maeve and Owen are home for the time being – both with work lined up and time available for me.  With the help of a friend, as most things happen these days, Maeve was able to get her tonsils out yesterday.  Since this past fall she has had almost a constant sore throat.   As I am ending this second round of chemo, she and I are enjoying simultaneous recuperation.
Chemo round 2 started the Monday after we returned from Arkansas.  I slept most of the time in the infusion room due to fatigue from the travel.  I was grateful to be able to enjoy the graduation, a few dinners out, and morning walks to get a cup of chai in Fayettechill at Owen's favorite hangout.
Thankfully, my memory of chemotherapy in 2005 is somewhat akin to going through childbirth.  Something you remember as unpleasant –  the memory of discomfort is less than the reality..  While I am still taking a platinum based chemotherapy agent due to the long nature of my time without evidence of disease, a second (different) drug has been added.  I remember being fatigued in 2005 – I did not recall the unremitting nausea, lack of taste, and days long periods of not being able to do much more than walk around the house and the yard.  The good news is that napping comes easy and spring is in full glory here in Ohio.
A friend came by last week and added annuals, perennials, herbs and vegetables to our gardens around the house.  Each morning I wake up, I take a moment of gratitude for this special gift and something I surely could not have done for myself this year.
While Memorial Day celebrations occur this weekend, I hope to have the energy to have a few friends stop by – feel free to consider yourself invited if you are in the area.    Chemo round 3 begins on Tuesday morning – and then there will be 9 rounds left.
I am grateful this morning to feel good enough to be up as the sun rises and enjoy the singing of the birds.  Have a great day and enjoy the special gifts today brings.